Spreading the "fairness" and "inclusion" embodied by blind football to the world.
I believe that we have not yet realised a society in which people with disabilities can demonstrate their full potential. Lobbying and legal reforms are one way to achieve this. However, simply changing the system will not change people's minds. And without widespread support, our society cannot truly move forward. This is where I believe blind football can contribute.

Before I first encountered blind football I did not have a close relationship with anyone living with a disability, and I am ashamed to say that I did not have much understanding of their lived experience. However, when I stood on the blind football pitch for the first time and played under the same rules, the barriers between us melted. I was fascinated by the game and became convinced that if we could create a society in which anyone can play an active role under a system that guarantees fairness, more people will be able to live their own life fully.

Through blind football, we want to connect not only people with disabilities and those without, but also companies, organisations, engineers and doctors, among others, who understand the challenges of the visually impaired and want to create new solutions by building upon each other's expertise. In order to nurture such an ecosystem around the world we need the help of many people, as well as an approach that is both social and economic in nature. It is a momentous challenge but I believe it is a worthwhile one.

We strive to realise a society in which visual impairment is no longer a disadvantage in social life, or even a society without visual impairment altogether. People often say that our dream is far-fetched or that blind football may not be the best means to achieve this. However, I am convinced it is blind football that will shift hearts and minds and instigate lasting change. We also have people all over the world who share our purpose. We will continue to expand our movement and create a brighter future by combining our strengths.
Representative Director
EIGO MATSUZAKI
Our Team
EIGO MATSUZAKI

Representative Director

Eigo encountered blind football during college. Even while working full-time for Diamond Inc. and Benesse Corporation, he continued to be involved in blind football, and eventually made the sport his career. As the Secretary General of the Japan Blind Football Association, he raised awareness about opportunities for the visually impaired, and founded the IBF Foundation in 2019.

EITA OTSUBO

Director/Secretary General

After working for a telecommunications company, Eita attained an MBA specialising in football. He joined the Japan Blind Football Association upon returning to Japan, and is currently in charge of business management and administration at IBF Foundation.

TADAHIRO HAYAKAWA

Director/Public Relations

Tadahiro started out as a reporter for a news agency, covering tournaments such as Wimbledon. He then studied sports management, and worked for PR firms before starting his own. Now, he operates his own firm while heading public relations at IBF Foundation.

MARIANO TRAVAGLINO

Coordinator

Mariano was born in Argentina. He has extensive experience refereeing blind football tournaments, and has been the referee coordinator for international competitions since 2017. Mariano is now in charge of tournament support and grant programmes at IBF Foundation.

DAVID STIRTON

Coordinator

David was born in Scotland and resides in Spain. He has worked tirelessly with international sports organisations, and has supported the operation of blind football tournaments globally. At IBF Foundation, he is in charge of tournament support and grant programmes.

YUKO HAKODA

Coordinator

Yuko started her career as a junior high school teacher, and eventually joined JICA to work in international cooperation within the field of sports. At IBF Foundation, Yuko handles grant programmes for organisations of/for the visually impaired.

KEISUKE YOSHIMURA

Coordinator

After graduating from the Kanda University of International Studies, Keisuke worked at the Embassy of Mozambique. He joined the IBF Foundation in 2021, and is currently involved as a coordinator for grant programmes.
Join our Team.
IBF Foundation accepts student interns and those interested in becoming full-time employees. We are looking for individuals motivated to make a difference through blind football.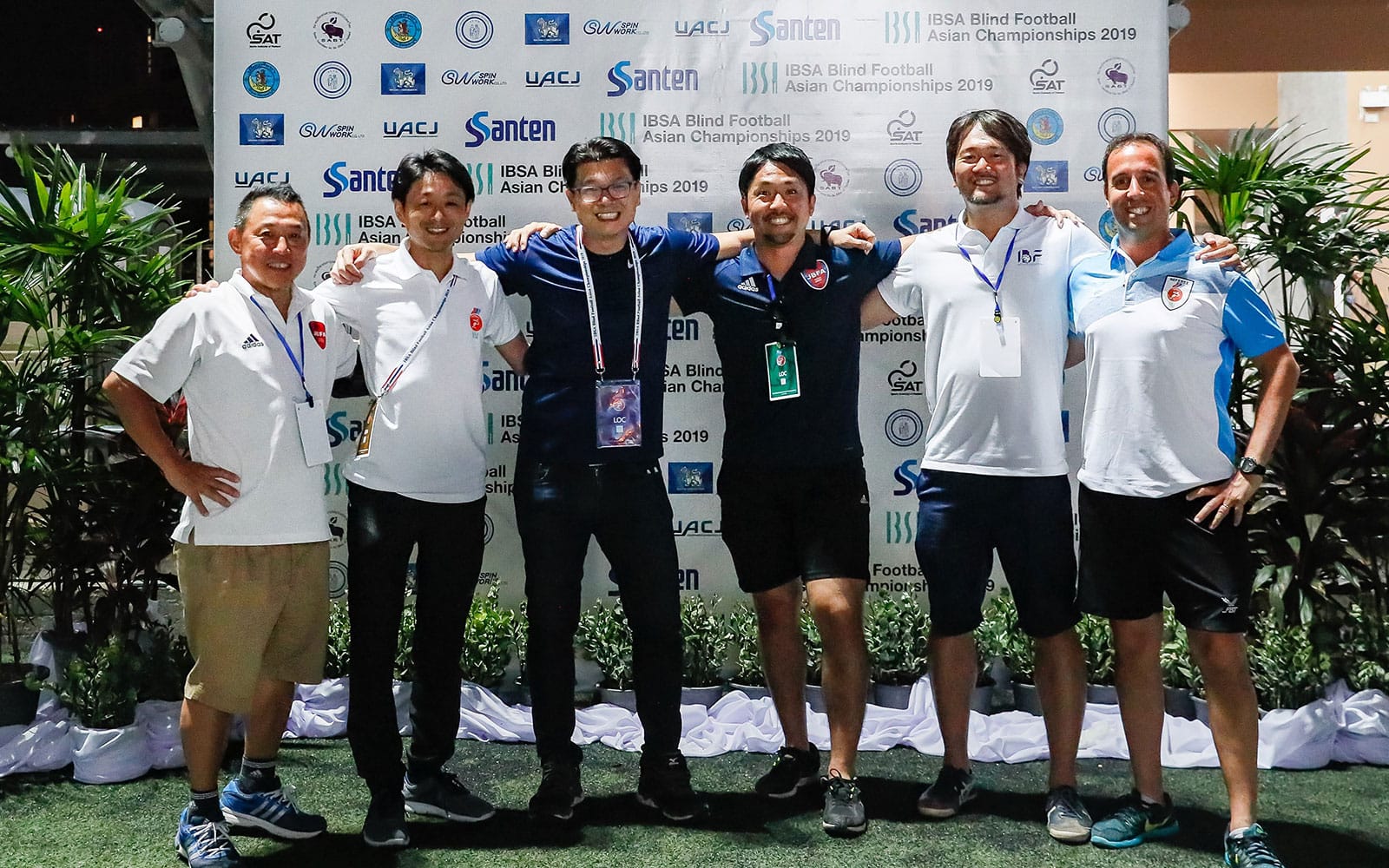 Overview
Organisation Name

General Incorporated Foundation International Blind Football Foundation

Address

3rd Floor Pairs Building 2-21-27 Hyakunin-cho, Shinjuku-ku, Tokyo, 173-0012

Council Members

Hisako Kaneko, Toshiaki Hasegawa, Jeff Davis

Auditor

Yasuhiro Imai

Representative Director

Eigo Matsuzaki

Directors

Eita Otsubo, Tadahiro Hayakawa

Donate

We welcome donations from both individuals and organisations. The funds will assist blind football tournaments as well as create innovative solutions for visual impairment.

Apply for a Grant

We provide blind football equipment and funds to organisations that support those living with visual impairment.

Become a Partner

We hope to expand our collaboration with companies and organisations that have diverse expertise to create solutions for visual impairment.

Subscribe to our Newsletter

Be up-to-date on our latest activities and impact, as well as what we hope to achieve in the future.