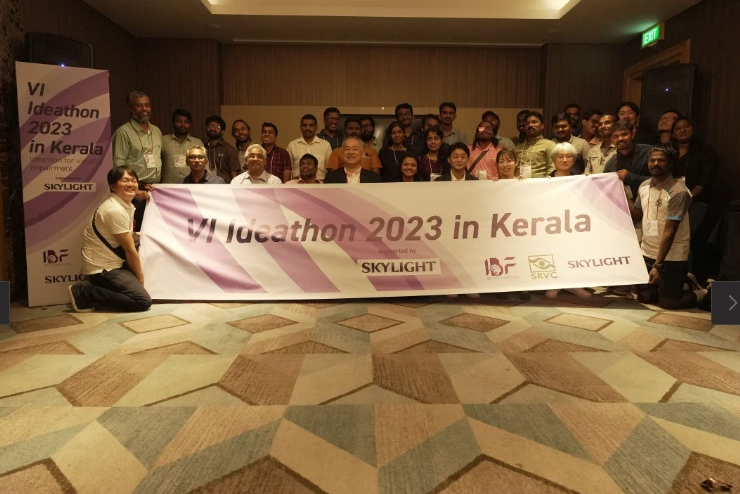 "VI Ideathon 2023 in Kerala", the first ideathon organised by the IBF Foundation, opened in Kochi, India, from 24-26 February. An initiative in which 20 visually impaired people take part to try to create new ideas through intensive idea exchange is a unique case in the world. The project, in which visually impaired people themselves discussed and generated ideas for social issues, was implemented in accordance with our mission, "We bring together diverse people and knowledge by mobilising the power of blind football to create answers for challenges surrounding visual impairment."
At the event, 20 visually impaired people from India were divided into five teams and set challenges to tackle from the perspective of the visually impaired, A three-day session was held to come up with solutions to these issues. The teams discussed and refined their ideas with their mentors, and on the final day the visually impaired people themselves presented their ideas.
On the last day of the event, media coverage was given and TV and newspapers reported on the problems of visually impaired people and their willingness to come up with their own ideas for solutions. It was highly appreciated by stakeholders as an opportunity to learn about ideathon skills and other learning opportunities, as well as networking and information sharing among visually impaired people.
SKYLIGHT CONSULTING Inc. was the main sponsor of the ideathon. The project was promoted in cooperation with the local organisation "The Society for Rehabilitation of the Visually Challenged'. This event was held in the same location as the 2022 IBSA Blind Football Asia/Oceania Championships in November 2022. We were able to focus more on social issues by working with Indian partners from the network we have built through the competition.
This time we have shaped one of our missions, but the ideathon is still at the demonstration stage. We will continue to connect blind football and social issues on a global scale.